Rock Band sur Xbox 360 a pour but de vous placer au coeur d'un groupe de rock. En utilisant les accessoires conçus pour le jeu, vous pourrez au choix vous asseoir derrière la batterie, jouer de la guitare ou de la basse, ou même chanter dans le micro. Evidemment, Rock Band encourage vivement de se retrouver entre amis pour former un groupe entier et jouer en même temps sur des morceaux connus.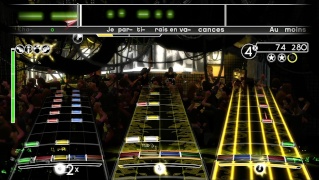 1960s
Rolling Stones "Gimme Shelter"
1970s
Aerosmith "Train Kept a Rollin'"
The Who "Won't Get Fooled Again"
Boston "Foreplay/Long Time"
Mountain "Mississippi Queen"
The Police "Next to You"
David Bowie "Suffragette City"
Black Sabbath "Paranoid"
Blue Oyster Cult "Don't Fear the Reaper"
The Ramones "Blitzkrieg Bop"
Deep Purple "Highway Star"
KISS "Detroit Rock City"
Molly Hatchet "Flirtin' With Disaster"
The Outlaws "Green Grass & High Tides"
Sweet "Ballroom Blitz"
1980s
Rush "Tom Sawyer"
Bon Jovi "Wanted Dead or Alive"
The Clash "Should I Stay or Should I Go"
Faith No More "Epic"
R.E.M. "Orange Crush"
Iron Maiden "Run to the Hills"
1990s
Foo Fighters "Learn to Fly"
Metallica "Enter Sandman"
Nirvana "In Bloom"
Stone Temple Pilots "Vasoline"
Weezer "Say It Ain't So"
Smashing Pumpkins "Cherub Rock"
Radiohead "Creep"
Beastie Boys "Sabotage"
Hole "Celebrity Skin"
Garbage "I Think I'm Paranoid"
Soundgarden "Black Hole Sun"
2000s
The Hives "Main Offender"
Queens of the Stone Age "Go With the Flow"
The Strokes "Reptilia"
Jet "Are You Gonna Be My Girl"
OK Go "Here It Goes Again"
Nine Inch Nails "The Hand That Feeds"
Pixies "Wave of Mutilation"
Yeah Yeah Yeahs "Maps"
Red Hot Chili Peppers "Dani California"
Coheed & Cambria "Welcome Home"
Fallout Boy "Dead on Arrival"
The Killers "When You Were Young"
New Pornographers "Electric Version"
_________________
Que de bonnes zik dans ce RB, j'adore faire et refaire Tokyo Hotel!!!
le seul jeu de guitare que je n'ai pas, peut etre un jour je me le prendrai
_________________

Sujets similaires
---
Permission de ce forum:
Vous
ne pouvez pas
répondre aux sujets dans ce forum